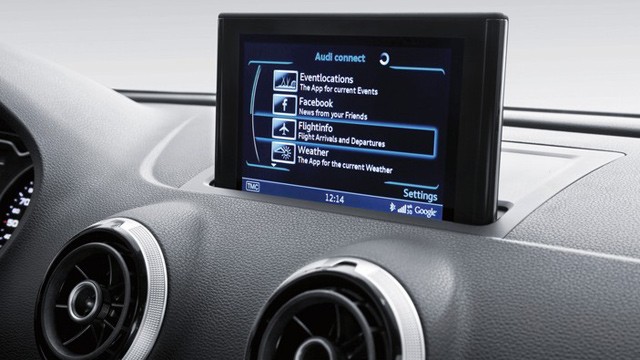 T-Mobile and Audi announced plans this week for affordable method for connecting to Internet to you Audi Connect compatible vehicle.
In a press release Monday, T-Mobile announced plans this week for a new way for drivers to connect internet to their vehicle. While the plan is extensive it will only currently be available in newer Audi vehicles as a part of the Audi Connect feature on select models.
Audi and T-Mobile are introducing the first plan of its kind. In the past, internet capable cars have relied heavily on user connected devices like their smartphones piggy-backing on the drivers data plan to support the system. This has proven a costly problem with shockingly high data charges.
As of right now, there are no imposed limits for the data plan with T-Mobile and Audi only offering one in-car data plan by offering wireless connectivity for $15 per month.
Audi Connect will display two distinct features, and while it will not offer any app based interface for the car, it will be capable of supporting up to eight devices at any given time on the in-vehicle Wi-Fi network. The improved feature will also connect your MMI navigation system to Google Earth to display up to 50 destinations on the car's screen as a part of the "My Audi Destination" feature as well as a Google Street View option for real time information and directions.
The new T-Mobile plan requires a $450 deposit at time of vehicle purchase but drivers will get 30 months of wireless data service from the initial payment coming out at $15 a month. For driver not wanting to pay the bulk upfront, dealers will also offer a $30 pay-as-you-go plan that doesn't require a service contract and can be cancelled at any time. While it is the more flexible option, drivers would stand to save if they can afford the higher upfront cost.
The company is currently offering a free six-month trial of the wireless data service for new Audi vehicles purchased over the next year. The trial will give driver's access to all of the Audi Connect features supported by their new car. The trial will run in addition to whatever service plan the driver has purchased.
This new plan is aimed at cutting costs for users as well as conserving device battery power. The Audi Connect feature was first introduced in 2011 but connected through the drivers smartphone data plan to support the "My Audi Destination" and Wi-Fi network features. This new feature will give drivers greater flexibility as well as a cost efficient data plan for the Audi Connect features.
Learn more [via]