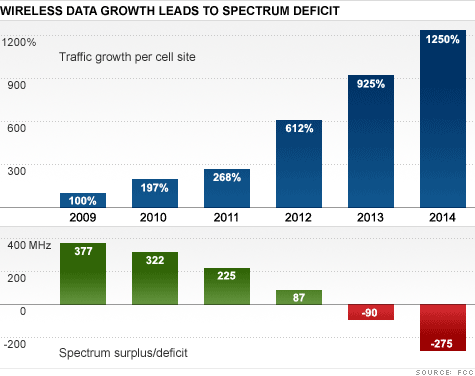 The most important thing to carriers besides subscribers is mobile spectrum; but by next year, according to CNN Money, the FCC could experience what is known as a "Spectrum Crunch" where there will be no more airwaves to pass around. This comes at a time where mobile carriers need spectrum the most as data hogging smartphones, such as the Apple iPhone, use up all their spectrum. If carriers don't get enough spectrum soon, the result will be dropped calls and slow data speeds. So what are the big 4 mobile carriers going to do about this? They're going to do the best they can to get a much spectrum as possible, but it won't be pretty. In fact, its going to be gruesome and here's why.
Carriers are now in a full fledged battle for spectrum. This includes merging with other companies, blocking other companies from merging, etc. (like the recently blocked AT&T and T-Mobile merger). Below, are a list of the big 4 carriers in the United States and what they are doing to deal with this "spectrum crunch".
Verizon:
Recently, Verizon just bought spectrum from Time Warner, Comcast and Bright House that weren't using them for $3.6 billion. Verizon also announced in a separate deal that it wanted to purchase spectrum from Cox for $315 million. However, T-Mobile recently asked the FCC to block the deal.  T-Mobile's reason to block the deal is because allowing the deal to go through will place "excessive concentration" of spectrum to Verizon. Metro PCS is also asking the FCC to block the deal as well. Verizon, on its part, defending the deal by saying that it will allow mobile subscribers to have access to that unused spectrum.
Verizon has the most spectrum among the carriers and wants to make sure it has enough for the ever increasing data usage of its subscribers. Verizon also changed their data plans to a tiered data approach, making data slightly more expansive than in the past.
AT&T:
AT&T tried to merge with T-Mobile in order to gain access to its spectrum for $39 billion. However, the deal didn't go through as Sprint, Metro PCS as well as various government regulated bodies sought to block the deal. Sprint's reason for blocking the deal was because merging with T-Mobile will increase the price of cellular plans and make it hard for other carriers, like Sprint, to compete. AT&T, as a result of the failed merger, had to give T-Mobile $4 billion and a roaming deal for T-Mobile subscribers to have access to AT&T's network. Rumor has it that AT&T are now trying to purchase spectrum from Dish.
AT&T also has tiered data plans and has a history with being in a spectrum crunch back when the iPhone was introduced on its network. So AT&T is trying the best it can to not make history repeat itself.
Sprint:
Sprint is taking a unique approach to getting more spectrum. A couple of years ago, Sprint outsourced its cellular towers to Ericsson in an effort to make managing these towers cheaper. It is also in a deal with Clear, which Sprint has a 50% stake in, that allows Sprint to have access to 4G spectrum. However, Sprint chose the Wi-Max route and therefore now wants to quickly enter the 4G LTE game to compete with its competitors. Hence the reason Sprint is currently trying to enter an agreement with Lightsquared in order to have access to its 4G LTE network. However, Lightsquared's airwaves interfere with the GPS signals of other companies and each time they offered a solution to fix the problem, the FCC turn them down. So the deal looks highly unlikely.
Sprint doesn't have enough money to buy mobile spectrum like AT&T and Verizon can. In fact, due to its deal with Apple to sell the iPhone, it is in no position at all. Sprint also is claiming to be the only carrier to offer true unlimited data plans to its subscribers, however, I don't expect that to last for long.
T-Mobile:
T-Mobile, even with $4 billion from AT&T due to the failed merger, doesn't have the resources to build its 4G LTE network. To make matters worse, it has the least amount of mobile spectrum among the pack and its parent company, Deutsche Telekom, is scrambling for a buyer to sell off T-Mobile. What T-Mobile is doing now is making sure that it's situation doesn't get any worse by blocking any deals that would allow other carriers to get spectrum such as the Verizon-cable deals.
With no money, and little spectrum, T-Mobile's situation looks bleak as the 4 carriers are getting increasingly hostile in their mission to obtain more spectrum.
If I were to analyze the situation and predict the future of the US carriers, I would say this:
Verizon and AT&T are the only carriers that have the power to purchase more mobile spectrum and with the FCC looking to auction of its last bit of spectrum, one of those two will no doubt be the ones to obtain them. The money will continue to flow into their bank accounts quicker and Sprint and T-Mobile because Verizon and AT&T have double and even triple the amount of subscribers that Sprint and T-Mobile have. However, Verizon and Sprint are the only carriers that can stand long enough until they start to feel the crunch due to the fact that the amount of subscribers aren't enough yet to cause any strain on their networks.
My prediction? Verizon will be safe due to the fact that their cellular towers haven't yet reached maximum capacity and they have a lot of money in the event they need to spend it on more spectrum. AT&T is safe but needs to be very cautious. Their towers are beginning to reach their limit and if their subscribers get frustrated with dropped calls and low data speeds, they can switch to another carrier; especially since the iPhone is now on almost every carrier. AT&T has the money to purchase spectrum and it needs to make sure it does so or else things will get ugly for them no matter how much money they have. Sprint, with close to 60 million subscribers, is in need of spectrum to roll out its 4G LTE network. This will likely happen though deals with wholesale wireless providers. Its too early to tell if this approach will help them survive in the long haul but Sprint better make it work. It has a "Network Vision" to convert its Nextel network into the Sprint network which will result in more spectrum for its current subscribers. I believe Sprint may be able to survive this war, but barely. T-Mobile is in deep trouble. If any carrier were to no longer exist after this war, it would be T-Mobile. They don't have enough spectrum, money, and subscribers. The $4billion from AT&T is just a bandage but soon that money will be gone and T-Mobile will eventually have to bought out by someone in order to survive. Which essentially means that T-Mobile will be the only carrier I can say that will lose this epic world war.